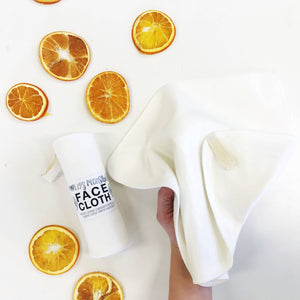 Our Bamboo Face Cloth is made of two layers of high quality bamboo fleece. Experience the softest, most luxurious washing and drying you can imagine. Bamboo fleece is naturally cream in color, silky soft, dense and absorbent. 
Face Cloth measures approximately 11"x13"

Made of 70% viscose bamboo and 30% organic cotton fibers
Benefits to choosing bamboo: 
-Bamboo is hypo-allergenic and SUPER soft, which is great for sensitive skin.
-Bamboo is naturally antimicrobial.
-Bamboo requires less energy, water and space to grow than cotton.
Machine wash warm with like colors and air dry. 
Edges are serged for durability and to prevent fraying.
Washcloths are not pre-washed, so expect some shrinking.
Handmade by Marley's Monsters in Eugene, Oregon.
Materials
Made of 70% viscose bamboo and 30% organic cotton fibers
Packaging 
Paper sleeve
Marley's Monster
From the Founder:
Hi, I'm Sarah (Marley and Fox's Mom). 
I started Marley's Monsters while on maternity leave from my career as an interior designer, waiting for the arrival of my first baby in January of 2013. I have always had a passion for making anything and everything, so I knew that I wanted to make Marley something special before she was born. I decided that this project would be a stuffed monster made with the fabric scraps I'd collected for years. I pulled my dusty sewing machine out of the closet and taught myself how to use it. I really hadn't sewn anything since I was a little girl and never fully understood the ins and outs of working a sewing machine. But after hard work, dedication and trial and error, Marley's first monster was born. After the monster I just kept going. I started making Marley everything she needed, always with sustainability and reusability in mind. Throughout the baby years, I tried product after product and learned what I liked and didn't like about each one before designing my own version. Every recommendation or new product request from my customers also helped us to grow into what Marley's Monsters is today.