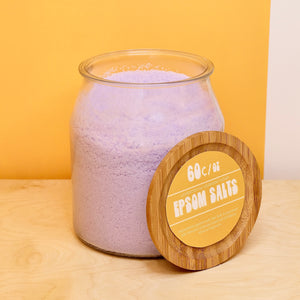 Available at our fill up bar for .60 an ounce.
If we had to choose one perfect scent for Aromatherapy Bath Salts, Lavender would be it. Lavender is known to be relaxing and calming for the mind. Combine that with the physical relaxation from magnesium sulfate and you've got a recipe for perfection. Enjoy a warm bath after a long day and let your mind and body find the peace you've been waiting for.
Ingredients
Epsom salt
Sea Salt
Evaporated Salt
Natural Lavender Essential Oil Blend
Mineral Pigment
Packaging
This product is available at our fill up bar. You can bring your own container or purchase one of ours to fill up. You can also order online for curbside/local delivery.
We receive this product from Vermont Soap in a 5-gallon pail. We either repurpose the pail or recycle it through Terra Cycles plastic box program.
Vermont Soap
Since 1992 Vermont Soap recognizes that human beings are now at a critical juncture in relation to our planet and that viable alternatives must be created to lead us into a sustainable future.
Vermont Soap was created to manufacture and market high quality, unique and natural personal care products of usefulness and value; and to be an example of how corporations can be a tool for positive social change.
Vermont Soap emphasizes the wholeness and integration of the company departments through communication, participation in the growth process, and acceptance of responsibility among co-workers.
Vermont Soap pledges to conduct its business in an environmentally aware manner emphasizing reuse and recycling, the use of natural-based ingredients, and the application of appropriate technology.