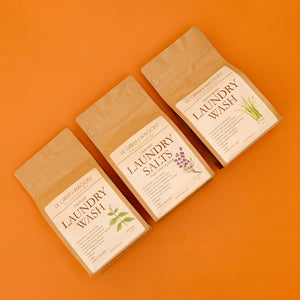 .62 an ounce - .31 per load
The cleaning power from Lil' Green Wagon's non-sudsing, earth-friendly, and vegan Lavender Laundry Wash comes from natural and simple ingredients.
This all-in-one cleaner, deodorizer, and softener will leave your clothes soft and free of residues left behind by commercial laundry detergent and fabric softeners.
Lil' Green Wagon's Laundry Wash is ideal for people with sensitive skin, allergies, baby clothes, and diapers!  Safe for today's energy-efficient front or top load washing machines. 100% handcrafted using Lil' Green Wagon's own recipes.
Products do not contain chemical preservatives, artificial fragrances, dyes, or synthetic chemicals.
AMOUNT TO USE FOR A NORMAL SIZE LOAD

Energy Efficient Front and Top Load Machines
1 level scoop (1 TBLS) - Really!

Traditional Top Load Machines
2 level scoops (2 TBLS)
Ingredients
washing soda
baking soda
borax
sodium
cold-pressed soap
oxygen whitener
vegetable glycerin
pure essential oil

That's it!
Packaging
This product is available at our fill up bar. You can bring your own container or purchase one of ours to fill up. You can also order online for curbside/local delivery.
Lil' Green Wagon is located in SoCal so they personally drop off 27 lb box that will be recycled. 
Lil' Green Wagon
From the Founder:
My name is Marilyn and I am the heart, soul and working hands behind Lil' Green Wagon LLC. I live in Orange County, CA with my husband and one of my three beautiful daughters. My two oldest daughters, are 1) married and lives nearby and 2) graduated from the University of Michigan and now lives in Chicago. I have an incredible love for dogs and am passionate about finding homes for shelter animals. I've been a vegetarian, now vegan for over 30 years and love to cook from scratch using fresh, organic ingredients. Spending time with my family, snuggling with my dogs, summers in Traverse City, Michigan, watching college football (Go Blue!) and Christmas... these are a few of my favorite things. 

Looking for an alternative to commercial cleaning products, I started handcrafting my laundry + cleaning goods in 2007 using simple yet effective ingredients. Realizing many of the products I thought were green had ingredients I couldn't pronounce, I decided to make products with ingredient names you could read and understand. I also wanted them to smell amazing but without the use of synthetic fragrance which I knew was a concoction of man made chemicals and petroleum based. I decided upon essential oils and Lil' Green Wagon was born.

I started doing a lot more research on the companies I loved which I believed to be green, all natural and eco friendly but what I discovered shocked and disappointed me. Many of the companies I had been supporting for years were discretely owned by the big companies who make the toxic products I so desperately avoided using. Did you know Burts Bees is owned by Clorox (makers of bleach, Pine Sol, Liquid Plumber) and Mrs. Meyers Clean Day is owned by SC Johnson (makers of Drano and Raid)?  I wanted so badly to believe it wasn't true but it was. I couldn't believe what were once reputable, small and sometimes family owned businesses were now part of the greedy world of companies that didn't care about me or my family let alone our well being; they cared about money. If using the packaging from a once honest business meant they could make more money by not telling us, well then, that's what they were going to do. How could a business be sold, the packaging remain the same yet the ingredients change and no one ever know it? Or worse, that they aren't required to tell us. Deceitful; that's what it is.

Disgusted by the greenwashing they were filling my head with and not knowing who to believe, I took matters into my own hands. I educated myself on who was the backbone to the products I loved. It wasn't easy, but in the end, it was clear I needed to create my own cleaning products and support none of them. Of course we all know Greenworks is a Clorox company but do you feel good about supporting Clorox even though the product you're using may be a little greener? I know I sure don't.

I believe nature provided us with the tools we need to live a clean, healthy, sustainable life. Unfortunately, most cleaning products found on the market today are filled with synthetic chemicals and artificial fragrances. They found their way here because they were easily mass produced and cheap. No one knew what long term effects these chemicals were going to have on our health, oceans, landfills; our planet.  More importantly, no one seemed to care. 

I knew there had to be a better way. I knew we could clean our homes without leaving behind chemicals which were much more dangerous than the germs and bacteria we were killing. Lil' Green Wagon LLC ingredients are simple, yet effective. Our packaging is designed to be beautiful and also refilled and reused aiding in the reduction of waste going into our landfills.  

I spent years developing my formulas, tweaking and changing them along the way. I wanted them to work great and smell wonderful! My friends and family were happy to be my testers, because I would never even think of using animals. Every thing sold by Lil' Green Wagon is designed, tested and packaged with love by me and my hardworking friends and family. With their blessing, I bring my goods to you. I hope you love them as much as we do.

Marilyn // owner + founder
​Lil' Green Wagon LLC