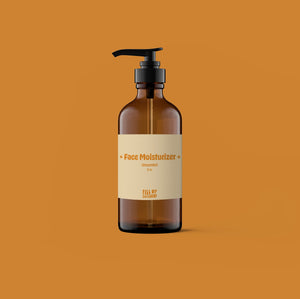 Available in store for $1.75 an oz in your own bottle!
Our light face moisturizer is great for day and night. Great moisture without being too heavy. 
Available in unscented. 

Consciously crafted in California! 
Ingredients
Unscented:
Water
Vegetable Glycerin
Cetearyl Alcohol (Naturally Derived Emulsifier)
Organic Raw Hemp Seed Oil
Squalane Oil (Olive Extracted Natural Oil)
Carrot Extract (Natural Source of Vitamin A)
Sodium Stearoyl Glutamate (Naturally Derived Emulsifier)
Allantoin (Naturally Plumps Skin) 
Green Tea Polyphenols (Antioxidants)
Tocopherols, 
Sodium Benzoate(Food Grade Preservative)
Potassium Sorbate
Packaging
Glass bottle with a plastic pump.
Fill Up Buttercup
Fill Up Buttercup is dedicated to keeping toxins and plastics out of your body, home & planet. 
Like you, we got tired of searching high and low for quality products to bring into our homes. All of our products are free of parabens, phthalates, and fragrances, they are refillable and get the job done.