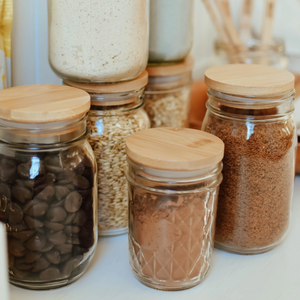 Spice up your pantry with these durable bamboo lids!
Perfect for snackin', freezin', and keepin' dry, they fit snugly with a silicone seal.
Just measure to make sure your jars are 70mm - yep, means plenty of popular pasta sauce, jelly, and nut butter jars fit the bill.
So why buy a new jar when there're so many already ready to go?
(No microwaves or dishwashers) 
*jars not included
Materials
Bamboo
Packaging
Lids come without packaging
Zefiro
It's not about being perfect. Nobody is. It's about being conscious that our actions matter. What we buy matters. What we waste matters. What we send to the landfill matters. What ends up in our oceans and ends up in our fish, matters. Every small step we take, makes a difference. We've all become aware that we need to recycle but we need to start shifting our perspective to reducing and reusing before we think about recycling! That's why Zefiro's mission is to help us reduce and reuse by offering products that are free of unnecessary packaging, minimize single use waste and are safe for both us and the planet. ♻️ What motivated you to start Zefiro? A number of years back, my friend made me conscious of ALL the unnecessary plastics in our life. Then, my sister in law educated me on ALL the harmful chemicals in our everyday products. Little by little I noticed it became harder and harder to shop. Almost everything has unnecessary plastic packaging and ingredients that I didn't want for our family. I had visited a zero waste store in Vancouver and the idea to offer products that are safe for both us and the planet seemed so logical. The products we offer are selected based on a few important criteria: That they're an alternative to a single use product. That they are better for both the consumer and the planet That they aren't difficult changes that you will need to incorporate into your life. They're simple swaps. That they're an affordable alternative.