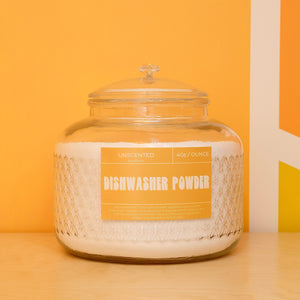 .40 an ounce
Nellie's Dish Powder is biodegradable, septic safe, and phosphate-free. Above all, this powder is a plant-based formula and kind to the environment. So, the only gross stuff going down the drain will come from your plates! What's not to love about doing dishes!
Use the hottest water available (60°C-70°C/140°F-150°F). Fill detergent cups as recommended by machine manufacturer. If machine has no cup dispenser, place 1 tablespoon in bottom of dishwasher for average load of dishes. More powder may be required in hard water areas; soft water may require less.
WHY POWDER? Liquid detergents are made up largely of water. At Nellie's we don't think selling and moving water around the planet is a very good idea. The fact is, more cleaning power can be packed into a smaller space using powder. 
Ingredients
Sodium Chloride
Sodium Carbonate
Citric Acid
Sodium Sulfate
Sodium Percarbonate
Sodium Metasilicate
Cocamidopropyl Betaine
Sodium Silicate
Protease
Nellie's Clean
The Nellie's brand was inspired by – you guessed it – Nellie! That's right – she was a real person with real values, who believed in honesty and simplicity and was going 'green' LONG before the color was cool. It was these beliefs that inspired our company's founder, James Roberts (and Nellie's actual son) to build an entire company honoring his late mother.