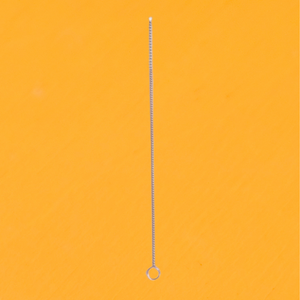 Your straws new best friend. The simplest way to keep your beautiful straw clean.
Materials
Nylon bristles - stiffer, wears longer & cleans easier
Stainless steel handle
Packaging
Straw cleaner comes without packaging
Simply Straws 
In 2012, the Sladics' family began "Simply Straws", a reusable drinking straw alternative to the common plastic straws. With a passion to educate the public on the effects of plastic pollution, and a commitment to work with organizations minimizing plastics-we began.
"After 31 years as a Dental Hygienist, I discovered that I was always adapting mediocre products to help my patients with dental problems such as teeth sensitivity, staining, and erosion issues.  I felt compelled to provide a product for my patients that was safe for them and the environment," says Cyndi Sladics, mother and co-founder of Simply Straws. "Talking this over with my family we all agreed it was time to make a product that I was confident to recommend and know it was the best of the best for my patients. We took my knowledge of science and health, my husband's love of creating, my son's youthfulness energy and my daughters' passion to protect the environment to provide for you our reusable drinking straws. A solution to a problem that affects all of us."