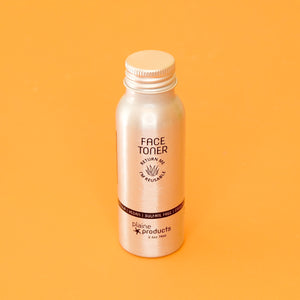 After cleansing with Plaine Products face wash apply this lightly scented toner across face and neck. Blended with nutritive properties it can be used daily to balance skin's natural pH levels. Its unique properties also soothe and calm skin irritations and shrink pores while cleansing and hydrating the skin naturally. It can be applied with your hands, a reusable cotton round, or via a small spray pump (you'll have the option to add/delete a pump at check out). Follow with Plaine Products face moisturizer. 
Plaine Products are:
Free of sulfates, parabens, phthalates and palm oil

Blended with whole essential oils (instead of synthetic fragrance)

Vegan and have non-GMO ingredients

Designed to biodegrade

Baby safe and hypoallergenic 

Cruelty-Free, Leaping Bunny certified 

Free of single-use plastic
Ingredients
Vegan | Cruelty Free | Non GMO | Biodegradable | Sulfate Free | Palm Oil Free
Aloe Barbadensis Leaf Juice
Caprylyl/Capryl Glucoside
Aqua
Polyglyceryl-5 Oleate
Sodium Cocoyl Glutamate
Glyceryl Caprylate
Citric Acid (100% Vegetable Source)
Essential Oil Solubilzer/Emulsifier
Sea Salt
Packaging
Refillable Aluminum bottle.
Bring your empty Plaine Products bottle back to our location or you can get a free shipping label here to ship directly back to Plaine Products for them to reuse!
You may also choose to recycle the aluminum bottles. Aluminum can be recycled with no loss in quality and can be recycled indefinitely. Whereas when plastic is recycled it is down-cycled into a lower form until it becomes unusable and is sent to a landfill.
Plaine Products
Most bathrooms are filled with plastic bottles that will only be used once before they head to the garbage or recycling can. While recycling plastic is always a good idea, experts agree that it isn't a solution. Only 5 – 10% of plastic is reclaimed for recycling. Even when it is recycled, most plastic still eventually ends up in a landfill or in our lakes and oceans. It's so bad that in just a few decades, there might be more plastic in the world's oceans than fish. That's because plastic never really goes away. It's designed to last forever. It's hard to imagine, but all of the plastic that's ever been made is still here, somewhere on the earth.
While plastic makes life (and bottling) easier, Plaine Products knew there had to be a better way. They decided to use aluminum bottles for several reasons. Historically, aluminum has proven to be a key material in successful recycling programs. Unlike plastic, aluminum is able to be completely recycled without any loss in quality at a fraction of the initial production costs and energy requirements. Plastic can only be recycled once or twice as it is downgraded each time it loops through the process. Plaine Products bottles are also strong enough to survive a number of trips. So they will be well worn before they recycle them. They are easily cleaned and sterilized, so they can ensure that their bottles are safe to use again and again.