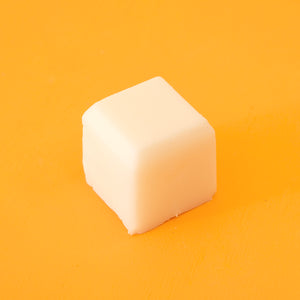 Desert Rose + Citrus: Pure essential oils of Valencia orange and Egyptian geranium make this a green citrus scent with floral highlights. This deodorant contains 100% pure essential oils.
Earl Grey (Bergamot Italian Orange) with a hint of herb garden makes a pleasant, light fragrance. Unisex. 
No Tox Life's extra-strength aluminum-free and paraben-free vegan deodorants are designed to keep you fresh with a very light application. Since they only need one light swipe per armpit, they last much longer than ordinary deodorants.
How it works: No Tox Life uses enzymes to help zap the odor-causing bacteria, and bamboo extract to help absorb excess wetness. Each puck or cube will glide on lightly and smoothly.
New extra-strength formula: This concentrated deodorant is strong and effective. Use only one light swipe per armpit. Not recommended for sensitive skin.
The transition period from aluminum deodorant: Aluminum-based antiperspirants include big brand products, as well as alternative products like crystal sticks, alum sticks, and mineral salt sticks. When switching away from these, you might experience a detox effect for a few days to a couple of weeks.
What we mean by detoxing is: you may be more stinky and sweaty at first while your body is ridding itself of the buildup that has accumulated with antiperspirant use. Antiperspirants block the pores so sweat (and toxins) can't get out. Your body needs to sweat to remove waste.
Re-apply as needed: You may want to reapply during the first few weeks until the detoxing is finished. To reapply, first, wipe the area dry, then just use one light swipe to refresh your protection. After the detox period, the deodorant should last 8 hours without the need to reapply.
Available sizes:
Zero Waste Large Cube (no packaging or holder - store in airtight container otherwise it will get dry and hard to apply over time) | 3.5 oz | can last up to 6 to 12 months with regular use
Zero Waste Travel Size (no packaging or holder - store in airtight container otherwise it will get dry and hard to apply over time) | 1 oz | can last up to 2 to 4 months with regular use
If you shave, wax or epilate, or for sensitive skin: As with any deodorant, we do not recommend applying directly after shaving or hair removal, and we recommend using an extra layer of cream or moisturizer (a small bit of shea butter works great) first if the skin is particularly sensitive and prone to irritation. Apply the moisturizer or oil or butter first then apply the deodorant. 
What to do if it dries out: Each deodorant is made with vegan ingredients, in small batches. Since there is a high amount of aloe vera juice, it may evaporate over time and the stick will become drier, and glide less. This doesn't mean it's no longer working - it still will work and be effective. You can re-hydrate it by spritzing with water or using a wet finger to get the "slippery" feeling again.
Store in airtight container: For the unpackaged deodorants, keep it in an airtight container to prevent the aloe vera juice from evaporating.  This is especially a factor in dry climates.
High heat: Keep your deodorant out of direct heat or sun (for example your car in the summer) because your deodorant could melt at very high temperatures.
Ingredients
The unscented version does not include the pure essential oil blend.
Bamboo extract powder - a silica (mineral) rich powder used to absorb wetness and help with smooth application

Aloe vera juice (organic) - softens and protects skin while helping with glide
Tapioca starch (modified) - a light version of tapioca starch to absorb wetness - ideal for heavy perspiration
Natural enzymes - fermented enzymes from natural yeast to help zap odor causing bacteria 
Dipropylene glycol - mineral derived moisturizer that helps with slip and glide - rated 1 (green) on EWG, considered safe and non-toxic even as a food additive
Golden jojoba wax - a desert native plant wax that mimics the skin's natural barrier - helps with soothing and skin protection
Silica microspheres (mineral derived) - from non-toxic inert substance that makes up plants, animals and the sand on the beach
Sodium stearate - thickener from plants, also a common ingredient in cleansers and soaps for texture
Allantoin - a skin protectant found in many plants and animals, ours is derived from the comfrey plant
Phenoxyethanol (and) Caprylyl Glycol (and) Sorbic Acid - preservative to keep your block/ stick fresh in the medicine cabinet - paraben-free
Cyclomethicone - a lightweight silicone for glide that doesn't cause build up on skin like dimethicone - washes out clean with soap or body wash - based on silica, a naturally occurring mineral
Fragrance - scented with a proprietary blend of pure essential oils and phthalate-free premium aroma isolates. Due to FDA recommendations, we use the term fragrance to refer to these essential oils and aroma isolates.
Packaging
Comes with no packaging!
We receive this product from No Tox Life in a bulk shipment with eco-friendly packaging.
No Tox Life
No Tox Life was born from the desire to provide effective, vegan body and home care to help you live a cleaner, greener lifestyle.  No Tox life is a local, family-run business and each product is handmade using the highest-quality ingredients they can find.