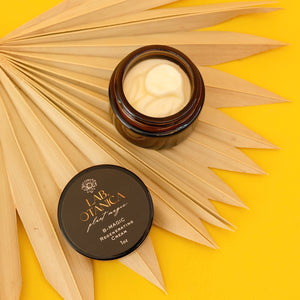 B-MAGIC: Regenerating and Hydrating Cream *limited offer*
Be one with the powers of protection. Believe in healing. Allow this protective veil to moisturize and heal your skin. 
SUPERPOWERS
Sweet almond oil and calendula flowers join forces to help calm dry, cracked, and irritated skin. The protective qualities of beeswax are known to help with inflamed skin by creating a hydrating protective layer that sits on top of the skin. This ointment has also been known to soothe cuts, burns, and even bug bites. 

Not only is this B-Magic ointment antibacterial, antiviral, antimicrobial, and antifungal, it is packed with soothing ingredients and botanically infused with calendula flowers to help heal superficial skin dryness and irritation. 
RITUAL
Apply freely to any area of the skin that needs mending, healing, repair, and extreme hydration. Use all day, any day. 
INSIDER TIP
Use as an ultra-moisturizing chapstick
Ingredients
Sweet Almond oil
Beeswax
Lavender hydrosol
Rose Geranium
Geranium hydrosol
Calendula flowers
and Essential oils
Packaging
Comes in a 1 oz premium amber glass jar with a flat lid.
LabOtanica
FROM THE FOUNDER:
Hola! My name is Meleesa, and I have been intuitively creating LAB.OTANICA for as long as I can remember. I was born and raised in Costa Rica amongst the most amazing medicine women, flora, and fauna. Growing up alongside powerful herbalists and strong women has guided me in seeking the peace and power of nature to balance my own spirit.
After realizing that plants will always have a healing presence in my life, I developed a profound sense of purpose to dive deep into plant magic. I had worked in the beauty industry for years and learned so much of the "dirty beauty secrets'', and I knew there had to be a better way. The moment I decided to offer the planet a higher vibrational line of plant-based, cruelty-free, organic products, the stars aligned and LAB.OTANICA was born. Imbued with the knowledge of my ancestors, the medicine women, I want to share with you my roots, my knowledge, and my passion for ritual beauty and care.
LAB.OTANICA leads me back to my roots, my land, and my ancestors. Our recipes are inspired by traditional medicine women and are botanically designed to nourish and repair. Intention, energy, and matter combine to form potions and elixirs that bless and uplift your temple. At LAB.OTANICA, the skin, mind, and body coexist in harmony. Harnessing and nourishing the light inside and out is the splendor of ritual beauty.  
I believe it is time for a positive change. 
I believe in the wisdom of the plant kingdom and the natural world.
I believe in the awakening of our inner power and authentic beauty.
Join me in this holistic and transformative journey.
Pura Vida,