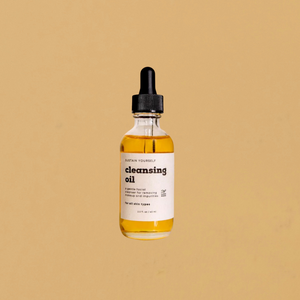 Available at our fill up bar for $9 an ounce.
An all-in-one facial cleanser, exfoliator, and moisturizer. Cleansing Oil is essentially a gentle alternative to soap- it cleanses without stripping the skin of its natural oils, removing the bad, and leaving the good. Whereas soap removes everything, causing imbalances to those with sensitive skin (acne, dryness, irritation, etc).
Our organic Cleansing Oil removes dirt, makeup, impurities, dead skin cells, and pollution from the pores. The oil cleansing method has been used for thousands of years because it can reduce oil, rejuvenate, and hydrate, all without drying out the skin. If you like to keep things simple, our Cleansing Oil is the only product you'll ever need in your skin care routine. 
Choose our refill option to reuse your dropper over and over again, or simply if you prefer a plastic-free option!
If you have sensitive or acne prone skin, we recommend washing your face afterward (double cleansing) with a gentle soap and following with an oil-based moisturizer. 

This is a cosmetic product and is meant for external use only. Do not ingest.
Ingredients
*sunflower seed oil: the vitamin e in sunflower oil has antioxidants that help with premature aging and wrinkles, and the linoleic acid helps the skin retain moisture.
*golden jojoba oil: humectant, antibacterial, antioxidant, hypoallergenic, and can soothe skin irritations such as eczema, psoriasis, and sunburns. Jojoba is also one of the only oils that is most similar to our skin's sebum, creating a balance of sebum production and reducing oily skin.
*apricot kernel oil: provides skin barrier support, locks in moisture, improves the appearance of fine lines and wrinkles. Anti-inflammatory and antibacterial, and helps bring a glow and radiance to the skin.
*rosehip seed oil: packed with vitamins, antioxidants, and fatty acids, helps prevent oxidative damage, boost collagen production, may help fade scars.
*certified organic
Packaging
Glass bottle, plastic top and glass pipe (or metal cap), biodegradable label.