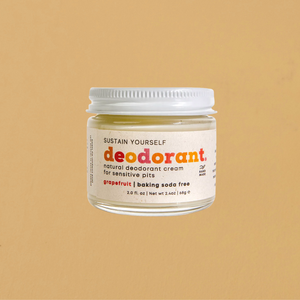 Consider your search finally over. This is not any ordinary natural deodorant. This is a plastic-free, clean, gentle, and effective alternative to conventional deodorant. It may not be a stick, but soon you'll discover that deodorant creams are superior. Get to know your body and try a cream for a change! 
Sustain Yourself's formula is vegan (no beeswax) and baking soda free (a common irritant in natural deodorant) and is handcrafted in small batches using gentle ingredients that effectively battle odor while keeping your pits soft, dry, and rash-free.
Sustain Yourself's Grapefruit Deodorant Cream is lightly scented with a pure and organic essential oil blend of grapefruit, sweet orange, bergamot, and lemon, offering a citrusy, fresh, and summery aroma. Sustain Yourself does not use artificial fragrances in any of our products. Take a look at the small, yet mighty, ingredients list below! Sustain Yourself sources their ingredients sustainably and ethically, and they focus on supporting small, local businesses.
Sustain Yourself recommends pairing our Deodorant Cream with a Armpit Detox if you're a newbie to natural deodorant, or simply if you just need a pit cleanse. 
How to Use:
Scoop a pea size amount of deo using your fingertip, the back of your fingernail, or one of our bamboo spoons. (use one pea size amount per pit, or one for both)
Rub between fingers to smooth, then apply like you would lotion, onto clean and dry pits (after showering), and rub until fully absorbed.
Reapply as needed, after wiping your pits clean with a damp towel.
Ingredients
*arrowroot powder: absorbs moisture
*+shea butter: moisturizing, anti-inflammatory, healing, calming
*+coconut oil: moisturizing, anti-inflammatory, healing, antimicrobial
magnesium hydroxide (food grade): a gentle, toxic-free deodorizer, most commonly used as a dietary supplement
*pure essential oil blend of grapefruit: antibacterial, antimicrobial, reduces stress
sweet orange: antimicrobial, antioxidant
lemon: antimicrobial, antioxidant, anti-fungal
bergamot: antibacterial, anti-inflammatory 
*certified organic 
+certified fair trade
Packaging
Glass jar. Metal lid. Biodegradable label.